K-100 MG
Gasoline Fuel Stabilizer

Eliminates water from fuel, reduces emissions, increases mileage, cleans dirty fuel systems. Treats 20 gallons.
8 oz/236 mL

$9.95
.6lb


Red Line
Complete Fuel System Cleaner for Motorcycles

Cleans intake valves, combustion chambers, carburetors, injectors, tanks and lines, for increasing mileage. 4 oz bottle can treat up to 12 gallons of fuel.
$7.95 4 fl.oz/.3lb
$14.95 15 fl.oz/1lb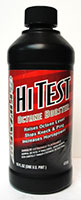 Maxima
Hi Test Octane Booster

Raises octane level to increase horsepower.
16 oz/473 mL

$9.95
1lb