Frequently Asked Questions
Have a question? Call 608-238-1195 or email us at mcperf@tds.net
Can I pick up the item in-store?
Of course! Please call in your order and we can certainly hold it for you!
How do you calculate shipping?
We base shipping prices on the shipping costs estimated by UPS through their website, which are based on package weight and size. Here is a map of the shipping zones that have been determined by analyzing the average shipping cost to each state. A small handling fee is applied to cover the cost of assembling and packaging the shipment.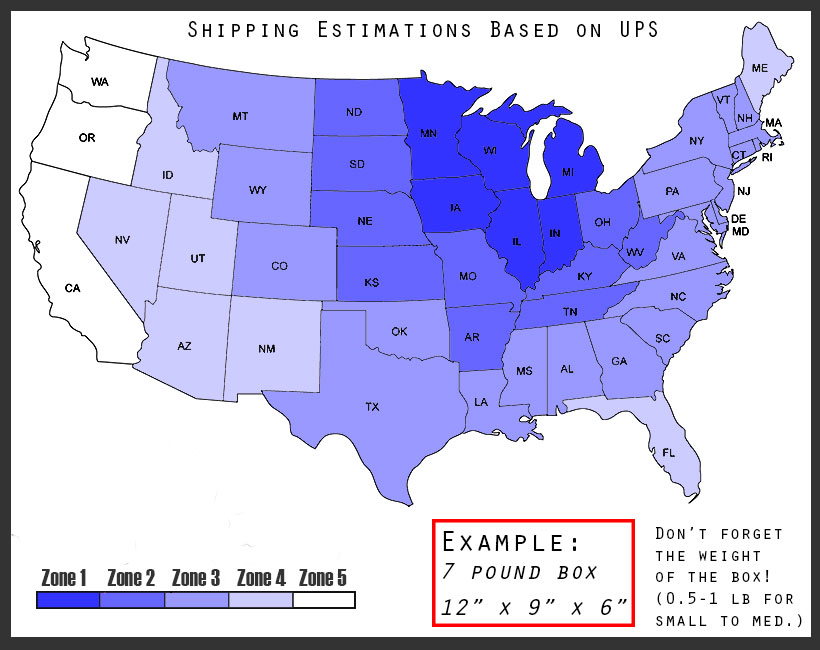 US Map courtesy of Bruce Jones Design, Inc. - via freeUSandWorldMaps.com.
Can I have my order shipped in a flat-rate box instead?
If you would like to use USPS Flat-Rate Boxes for heavy orders - please place your order over the phone.
Do NOT send sensitive information such as payment info via email.
I need my order YESTERDAY - How can I get the fastest shipping available?
Please place your order over the phone and request UPS 1-Day shipping, Overnight shipping or similar. This will be very expensive but it can be done (Depending on the weight/size of the package, UPS can range from $20 to over $100. Please note that orders made too late in the day will not be sent out until the following morning. UPS closes their doors at 6:00 and may not process next day orders after a certain time. Please make sure to place your order here EARLY enough to ensure it can be assembled, packaged and taken to UPS before their cutoff time for next-day orders. Orders made after 4:00pm may be processed the next morning, depending on floor traffic for that day. Thank you.