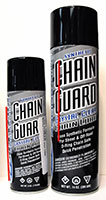 Maxima
Chain Guard

Synthetic chain lube for street and off-road. Reduces wear and noise.

$6.95 - 6 fl.oz (.6lb)
$9.95 - 14 fl.oz (1.2lb)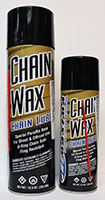 Maxima
Chain Wax

Paraffin-based chain coating: creates a waxy film to repel water and protect against humidity.

$6.95 - 5.5 fl.oz (.6lb)
$9.95 - 13.5 fl.oz (1lb)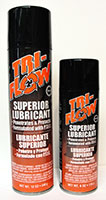 Tri-Flow
Superior Lubricant

Lubrication to decrease wear on moving parts, reduces noise. Use on chains, cables, sprockets, derailleur and hubs.
$9.95 - 6 fl.oz (.6lb)
$14.95 - 12 fl.oz (1lb)

Motul
Chain Paste

Lubricates and protects motorcycle chains. Brush tip applicator.

5.7 fl.oz/150 mL
$8.95
.4lb