As of April 1, 2020 we will be requiring all service requests to be filled out using the keydrop forms in the "Supplies" box on the front door. Please then put them through the slot in the front door with keys. Be certain to include emails and cell phone numbers for facilitating the best communication. This is for complete vehicles and components as well.
Due to the accelerated Corona virus infection rates in the Madison area we need to take the protection to the next level as our experienced staff is by nature in the highest risk group.
We appreciate your patience and we will do our best to fulfill your needs.
We can ship parts to you daily via UPS and USPS Priority mail.
All the best,
Bill W and the (mature) crew at Motorcycle Performance
As with everything else, call first, so we can be assured of the best chance of the needed space. 608-238-1195. Work scheduling will be done on a floating basis, depending on our tech schedules.
Safety first. Thank you.
Welcome to Motorcycle Performance. We offer top-level complete service on BMW, Ducati, Harley, Honda, Kawasaki, Suzuki, Triumph, and Yamaha motorcycles.
Our range of services includes everything from scheduled maintenance to complete engine overhauls. Chassis servicing here is second to none. The same people that mount our 212 mph tires take care of yours. The same goes for the brakes, chassis, and suspension work as well. If your driveline needs a little pep, we are your one-stop shop.
We bore and hone cylinders, rebuild transmissions, and offer all levels of service for cylinder heads. From a quick freshening up to new valve seats, even billet cylinder heads, we do it all. We use our own in-house people and technology to set records. Let us know what we can do for your ride.
HOURS:
Mon-Sat: by appointment only
TIRES
Restore that new-bike feel with new tires. We stock Michelin, Bridgestone, Dunlop, Shinko, Metzeler, Continental, Kenda, Pirelli, among others. Ask our experienced staff what works best for you and your riding style.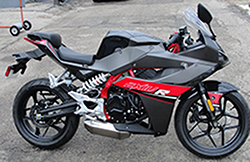 1995 BMW
R1100RS

65k miles, rebuilt clutch, throttle bodies

$2,890

stock#1620

1976 BMW
R90/6

76k miles "exempt", nice classic BMW, rebuilt carbs, fresh oil change, comes with side and rear luggage

$3,995

stock#1632

2004 BMW
R-1150RT

107k miles, new battery, heated grips, 2 hard side luggage, great value!

$4,790
$2,995


stock#1481

2006 Ducati
Multistrada 1000S

26k miles, Ohlins suspension, extras

$4,295

stock#1633

2001 Ducati
996

8k miles, race red, exceptional ride

$6,995

stock#1591

1996 Ducati
900 SS CR

17k miles, black, new belts, battery, etc

$3,295

stock#1601

2005 Harley Davidson
XL-1200C

20k miles, every factory trim accessory

$3,995

stock#1613

2016 Honda
CRF-250L

800 miles, Dual Sport Adventure bike

$4,490

stock# 1621

2015 Honda
CTX-700

3,400 miles, very clean

$3,990

stock# 1625

1994 Honda
ST-1100

1000 mile days, excellent condition

$2,495

stock# 1626

2017 Hyosung
GD-250 Sport Single

10 miles

$2,995

stock#1624

2002 Kawasaki
KLR-650

67k miles, Adventure bike, not many $$$

$1,595

stock#1629

1999 Kawasaki
EX-250R Ninja

Great starter bike

$1,195

stock#1635

2015 Suzuki
DL-650 V-Strom

8300 miles, new tires

$5,890

stock#1619

2002 Suzuki
VS-800 Intruder

Clean carbs, new battery, shaft drive

$1,595

stock#1631

1978 Suzuki
GS 1000C

18k miles, fresh paint, nice classic

$2,895

stock#1560

Photo coming soon

1967 Triton


Triumph motor in a Norton frame, classic custom, many features

$11,900

stock#CONS2

2018 Yamaha
R3

580 miles, immaculate

$4,490

stock# 1634

2013 Yamaha
FZ-8N

7200 miles, great standard, s.t.

$4,295

stock# 1606

2008 Yamaha
FZ-1

17k miles, ridden by an old guy, toured around the USA, soft luggage supports, heated grips

$4,990

stock# CONS1

2006 Yamaha
FZ-1

23k miles, adult owned, suspension trick abound

$3,590

stock# 1627

Tech Tip!
Oil Changes Revisited
We revisit the topic of motorcycle oil changes, answering the question "Why is it more expensive than going to Jiffy Lube?"



Customer Projects and Photos page!
Let us know if you would like to be featured!
Send photos and a description to mcperf@tds.net


Motorcycles motorcycle performance repair used motorcycle tires madison motorcycle shop welding oil change paint