Bill Whisenant had worked on motorcycles since he was 16 years old, working after school at Klein-Dickert Honda until graduation. Chuck Wagner, the head machinist at Englehardt, recruited Bill to work there during his studies at UW, and he did so until going into business.
September of 1976 - Bill Whisenant established Motorcycle Performance as a subcontracter of Kawasaki Cycle Center.
Motorcycle Performance was officially opened in this location on April 11th, 1978, and we've been here ever since! The store itself has gone through some changes as we save money for rennovations and upgrades (the large warehouse was added, the side yard was enclosed a few years later)
Movie: The Bonneville Project, by Second Society (Matthew M. Cribben and Jason Gullickson) is a documentary tracking progress toward a longstanding dream of racing on the salt flats
Bill Whisenant History in his words, as of July 2018
1971 – 1973
Klein-Dickert Honda Madison WI Line technician
1973-1975
UW Madison Mechanical Engineering (3 yrs)
1973-1976
Engelhart Inc. Madison WI Technician, Cylinder porting development
1976-1978

Kawasaki Cycle Center Madison WI Technician – Technical manager

1971 – 1978
Motocross/Flattrack racing AMA Pro Tour, ice racing
1978-2018
Motorcycle Performance Madison WI Owner, technician, service manager, test rider, development director, chassis builder, cylinder heads, etc. Over 47,000 service orders written, over 50,000 counter sales slips written
1978–present
Racing Professional and Sportsman (only motorcycles listed)
1980
National Champion A/Modified turbo Kawasaki
1981
State Champion 500cc Hill Climb
1982
National Champion AMA-Dragbike Top Fuel
1983

National Number 2 Ama-Dragbike Top Fuel, co-holder 1/8 mile e.t. record
1984-2013
23 national titles in CCS Roadracing
1994-2008
54 race wins CCS using Ducati Motorcycles
2008-2018
Bonneville Land Speed Racing 1st Ducati over 170,180,190,200,210 mph using the Testastretta platform. America's fastest Ducati @ 212.95 mph
2014
First Ducati in the seven second E.T. range in the world using theTestastretta platform
2017
Bonneville Land Speed Records with 999cc BG Partial streamliner
2017
Bonneville Land Speed Record with 749cc Nitro injection (both records with Testrastretta platform)
2019
Bill's Last trip to Bonneville
IN MEMORIUM

William (Bill/95) Wesley Whisenant died on May 21st, 2020. 9 years ago, he was diagnosed with stage 4 prostate cancer, with a prognosis of 18 months. For nearly a decade, he kicked cancer in the teeth and was in a good health for nearly all of that time. He attributed this to lifestyle changes, his Mayhem exercise group, family support, and a faithful adherence to recommendations by his amazing oncologist Dr. Lang. He participated in several cancer studies and was glad to contribute to cancer research and education.
Bill started his mechanical endeavors in his parent's garage, much to the chagrin of his mother. In 1976 he founded Motorcycle Performance in an old pig barn (1978 at the present location) where he serviced bikes and worked on racing projects. He forged many meaningful connections on and off the track and ruffled more than a few feathers along the way. He was a problem-solver, a master welder, a lifelong teacher, and occasionally a cantankerous old goat. He and his team at Motorcycle Performance set land speed records at the Bonneville Salt Flats, raced at top speeds at tracks around the country with friends and fellow racers, spent quality time with family, and especially enjoyed time with his granddaughter, Owen Rae (who he nicknamed "Sprout").
In lieu of a memorial service, there will be a gathering at the shop in the spring of 2023 as a memorial shindig, to share stories and memories. More details will be posted on MotorcyclePerf and the shop Facebook page closer to that date. We are also collecting stories sent to: BillWhisenant.stories@gmail.com and are listing them below as a permanent wall of memories. If you have a memory to share it would be welcome, please send it to us!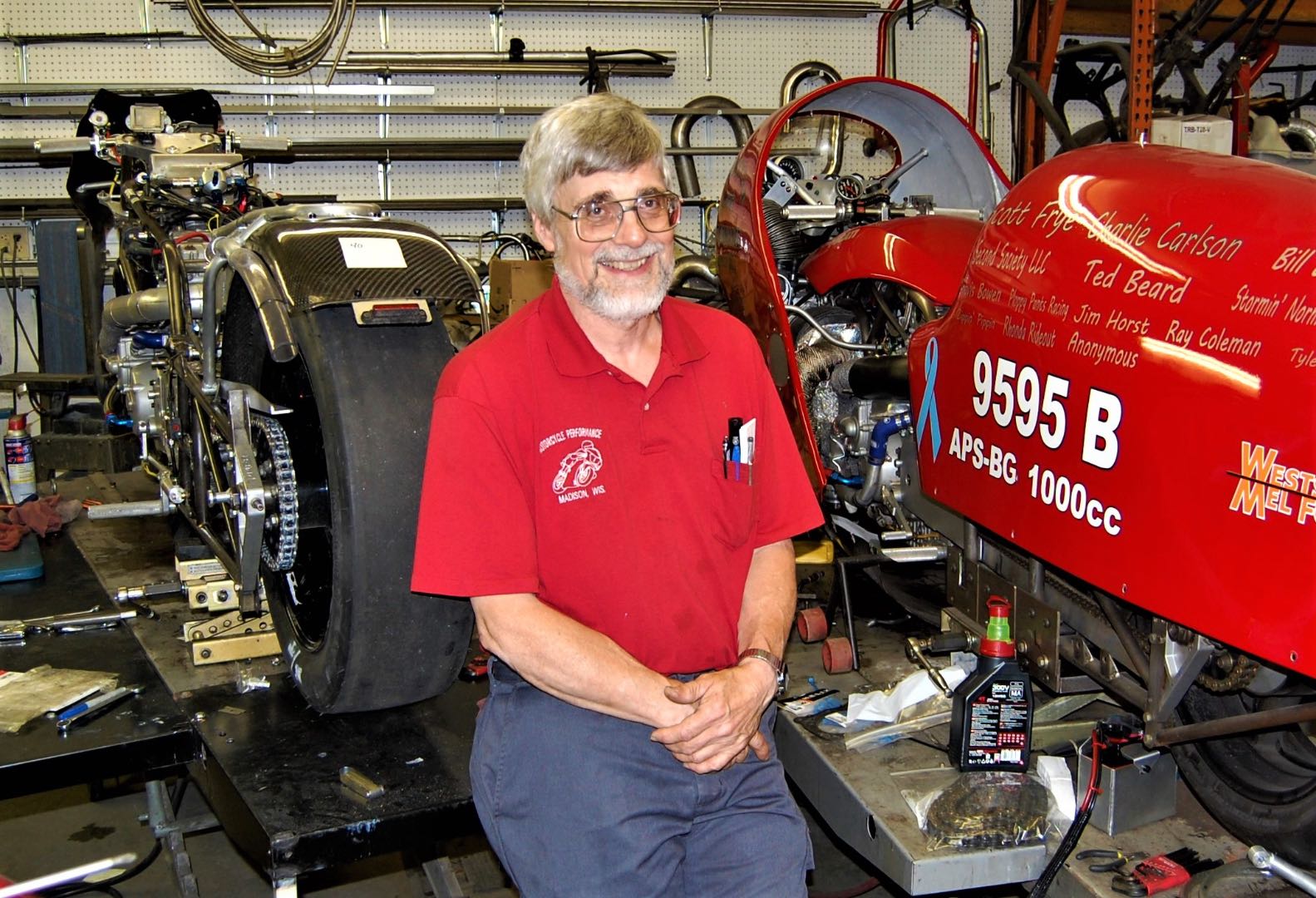 SHARED MEMORIES
Thank you to everyone who has shared a story or kind words - if you'd like to share a memory to go on the wall, please feel free to send it to BillWhisenant.stories@gmail.com or to the shop email address with subject line "Story for History page"
---------------------------------------------------------------------
"Bill was a good friend for over 40 years. I remember when he came to Great Lakes Dragaway with one of the first blown Kawasaki Top Fuel bikes. We saw him in Valdosta at the 2019 Mancup Finals. Bill was still helping the top racers with his friendly Genius. RIP Bill"
----John and Jody Gregory
"Bill was one of the greatest engineers and men I've known. His shop touched every motorcycle I've owned, and it was an honor to follow him to the salt flats and make a film about his land speed record projects. He was so generous with his time and experience, I will deeply miss our conversations."
----Jason J. Gullickson
"REST IN PEACE AND HAVE A SAFE TRIP BILLY!!"
----Clyde Hegerfeld
"A good friend and I will miss him. He made a difference in this world and I am proud to be able to call him my friend"
----Jim
"I knew Bill, I worked with him twice, I roadraced for him. I will miss him badly. GOD SPEED 95!!"
----Mark R. Miller
-- Thank you to Steve Hegerfeld and Jim and Kathleen Haraughty for the memorial tree and flowers --
"Took my 1969 Honda CL350 to his Mom's garage for a tune-up sometime around 1975. It was like having a new bike, it ran so well. I think the bill was like $15 including new points."
---- Tom R
"I was honored to know your dad, and to have had the time and experiences to slowly chip away at his occasional "cranky" exterior to find the warm, intelligent and dedicated human at his core. I will always remember being stymied by a kiln repair at Memorial that was above my pay grade; try as I might I just could not conjure a workable solution. I thought that the wisest course of action to elevate my problem-solving capability was to run the probem past your dad via a phone call. Within a couple hours Bill, taking time from work, rode a pre-owned Suzuki cruiser up to the ceramics door sporting his hi-viz vest, helmet and repair kit. He then diagnosed the requisite repair techniques, outfitted me with the requisite knowledge, the appropriate screws, drill bits and a special lubricant. After he left I make the kiln work again. I rarely knew ceramic-based despair like that; I was two weeks into a series of unsuccessful repair efforts precipitated by the district's delay in sending professional help my way. I felt very honored that Bill went out of his way to help me like that, and the only motorcycle that was involved in this transaction was his means of conveyance. That incident revealed to me the true measure of the man."
---- Geof Herman

"I'm a long time customer of the shop and also workout partner of Bill's from the morning workout. I didn't know your dad that well, but I just wanted to share how much respect I had for him. I own a small business of my own and have been in business for 11 years. That Motorcycle Performance has been in business for 50 years is truly mind-boggling to me!
Over the last couple of years Bill has helped me set up the suspension on two of my bikes and during these visits to the shop, I learned so much. Every time I thought I understood something, I'd try to explain it to Bill, and he'd let me know that know that, No, that wasn't quite it. Point being, his depth of knowledge was pretty amazing. He used to kid around that some people left him bad reviews on Yelp or Google that he was condescending, but that wasn't it at all. He just knew so much and he really tried to teach us, his customers, a little about what he knew the best way he knew how. I really admired that about your dad. He might have been a little gruff, but there was a lot to back that gruffness up.
---- Damon Bourne

I am deeply saddened to hear of Bill passing. I really didn't know him well or very long. My son was a student at UW and had an old Honda CB 550 that needed work. He set me onto Motorcycle Performance. I live near Burlington and Lake Geneva so there are closer shops. At my first visit, I talked to Bill and I came away thinking he views me an idiot. I felt he was sizing me up as to my intent and my grasp of reality. I had looked around the shop and it was to my eye a substantial place.
I have a 1971 Yamaha R5 and the 1976 Honda CB 550k I bought from my son. I brought the Yamaha engine to the shop in boxes. I had completely disassembled it and ordered parts down to a new crankshaft and electronic ignition. After paying for all the expensive parts, I thought better of my amateur attempt at reassembly. It took some negotiations with Bill to get him to take this on. I assured him it was all there, although I felt he wasn't sure I was. Anyway, the shop did rebuild the engine and put it back into the bike and got it all set. I was handed the bill and paid it no problem. After I paid that initial bill without any drama, Bill started treating me differently, and I no longer felt like he thought me an idiot. Since then, he has done all my work on those old bikes.
He spent a good amount of time with me when I brought a piece of MDF into the shop that I had made as a template for adapting a the modern LED headlight into the old Yamaha headlight bucket. I wanted him to fabricate an alumimun version of my wood piece. He said I had the ability and tooling to make it out of HDPE . He took me upstairs to the machine shop and showed me a piece of HDPE which is a plastic material. He told me how to use the headlamp clips from British bikes to secure my adapter to the headlight bucket. I took his advice and completed my project. I sent him pics and he replied that it looked professional.
The spring of 2019 I was in Madison for a doctor appointment and was just looking for a reason to go to the shop. I decided I needed a new chain cleaning brush. Good enough. When I got there, I wound up talking to Bill about my upcoming major spinal fusion on April 16th at UW hospital. He told me about these exercise classes he attends and how that keeps him going. He was a year older than me, and we just kinda talked about being old. That was the last time I saw him. I spent the next 6 months recovering. My Honda has a head oil leak, and I wanted to seak his council about a remedy. That lead me to learn of his passing. I didn't really know him, but I respected and trusted him a lot. I also liked him. I don't know how you replace a guy like that. I will miss him and will be thankfull for the time I spent with him.
---- Tom Marks
News of his death was such a shock. My good friend Debbie sent me the news- she and I (and her cocker Poppy) went on our Great American Roadtrip after spending 2 months at a summer school together in Arizona. Bill was our life saver- he made sure we had trouble-free driving, arriving at her place to check out the truck. Bill wandered into the garage, slid under the car and proceeded to find all the faults. It was like the Datsun people hadn't even done the service Deb had paid for-no oil in the transmission for one big thing. Bill put it on the hoist the next day at Cars of the Continent where he worked at the time & fixed it all in 3 hours, "Better safe than sorry' was his laconic comment!

Deb & I were in a bar when I'd met him – expressed sympathy when the barman accidentally broke his glasses. I happened to be wearing a Harley Davidson drive chain belt at the time which intrigued him, as did my surname. Possibly racing production bikes in Oz helped. But I still have no idea how on earth he got me to race some ugly snorter of a machine on the ice later when we returned from our trip. Must have been completely mad by then!

The photo above is how I remember him- a gentle, thoughtful and incredibly generous and kind person.

If Bill battled that awful illness for 10 years it must have been very harrowing for you all at times. I found it hard to reconcile his later photos with the man above. What an awful toll it takes on you. But after grieving for him I feel so relieved to learn about you and his wonderful family. He did bloody well for himself didn't he?

When I got Deb's email with the links to his tributes, I did the only thing I could to feel close to him- went out bought a bottle of Jack Daniels (something I hadn't done on a long, long time ), got out my USA journal and his photo, and raised a glass (or two) to an extraordinary talented, intelligent and loving man that I feel fortunate to have known.

One thing niggles at me- am I correct in thinking that he not only designed and built the parts but also the bikes themselves? If so, will or has anyone, catalogued all his work? This is important stuff as these talents are so rare they deserve recognition in their own right. What a legacy in technical design and imagination for the future!

Having lost my soul mate in '82 in a car accident we had, I can share one thing with you. Grief never leaves you, it just gets a bit easier to carry as time goes by. May you always be warmed by the knowledge that you loved a very rare person and helped make his dreams come true.

With gratitude and love to you all,

Linda Villiers (from Australia)

Though we didn't know it at the time, meeting Bill at the Slimey Crud Run in 2007 would be something of a life-changing event for me.

His Ducati salt bike sat on display in Pine Bluff and I spotted chunks of white stuff falling off the bike. Bill came over and said hello and, like a doofus I said, "For a minute there, I thought there was snow chunks falling off your bike."

Bill laughed and explained he and the team from Motorcycle Performance had just gotten back from Bonneville where they ran the bike in the SCTA World Finals and they hadn't even had time to clean up the bike. He went on to explain how Bonneville's salt sticks to everything and it takes some deep cleaning to get it all off.

Meeting somebody who not only had been to the Bonneville Salt Flats but actually competes there in motorcycle land speed racing was an astonishing thing to me. As a kid, I read about the land speed racing legends of Bonneville and saw the dazzling pictures of the place in motorcycle and hot rod magazines my brother hauled home.

To this day, I have a copy of the January 1971 issue of Cycle magazine with a striking image of Don Vesco and his world record-setting double-engine Yamaha on the salt at Bonneville on the cover. Anybody who went there, the Citadel of Speed, and ran down the salt in competition became an instant legend to me.

In the course of the conversation, I asked Bill if I could do an article about him and his racing efforts. Through the visit to his shop and interviewing him, I got to meet Jim Haraughty who campaigned a vintage Triumph at Bonneville. They both became valued friends with their help, one of the pipedreams of my adolescence became a reality. My article about Bill and Jim and their salt bike racing, "Need for Speed," appeared in the September 2008 issue of Road Bike magazine.

Ever since reading about Bonneville and its place of legend in motorsports lore, I had harbored the dream of someday getting there, if only to just see the place. As a kid riding a 2.5 hp Briggs & Stratton-powered mini-bike that I had souped-up to maybe top out at over 30 mph, I even imagined myself screaming down the salt flats on some slick racing bike. At best, a thing unlikely to ever happen.

While doing the story for Road Bike, I mentioned the 1984 Honda V30 Magna I had recently restored from a non-running lump and how crazy-fast the little 500cc bike seemed. Bill and Jim suggested we should find out how fast the thing really was and that I should consider taking it out to the World Finals in 2009. They offered to help with preparation of the bike, how to get started, how to enter, get the rules and to show me the ropes of how the events run and how to compete on the salt when we got there.

It was the chance of a lifetime to have two salt racing veterans offer to help with fulfilling a long-held dream. To be honest, I almost didn't take them up on it. They were serious competitors with huge investments of time, money and effort in their machines. I didn't want to get in their way, or waste their time on my shoestring budget fling on the salt. What if the bike proved to be a real dud or I made a mess of things during the competition?

I realized that once the meet began, what was something of a dream vacation for me was serious work for them. There would be no time for helping a putzy rookie sort out any problems.

I needn't have worried. Jacci and I met Bill, Jim, Bob Crook and Chris "Louie" Lamore at Wendover and they all pitched in to help us get situated in the pits and fix some last-minute items with my Magna. They took us through the steps of registration, scrutineering and, when the racing began, staging and finally, running on the salt itself.

Those days at Bonneville with Bill, Jim and crew at the 2009 SCTA World Finals were among the most memorable in my life. Even the old Magna pitched in by taking me to a speed of 104.536 mph at mile 3 on my final run of the meet, exceeding my goal of reaching at least 100 mph with my once non-running lump. That was only 7.5 mph short of the existing record in the 500 cc P/P class!

That gave Jacci and I confidence to try more events on our own, returning to Bonneville in 2010 for the Bub Motorcycle Speed Trials with a 1974 Honda CB350F that Bill and the Motorcycle Performance team helped prepare. At that meet, we actually set a record in the 350cc production class, but that lasted only about three days, with our speed being topped in the closing days of the meet.

In 2012, we returned to Bonneville with the '84 Magna, but got in only one course survey run at a little over 85 mph before rain and wind moved in and shut the meet down until we had to leave to come home.

In 2014, we went back, this time to the Bonneville Motorcycle Speed Trials and entered the '74 Honda CB350F in the new AMA "Classic Production" class for bikes built between 1960 and 1980 and essentially in original stock form running on pump gas. We made it into the AMA National Speed Record books with a two-way average speed of 80.102 mph. That record still stands.

It was an unlikely event that probably would not have happened without Bill, Jim and the great crew at Motorcycle Performance. The role they all played in that story is a central part of the book I wrote about it entitled The Unlikely 1 published in 2017 by TouchPoint Press https://touchpointpress.com/authors/gary-ilminen/ .


Bill's wit, humor, courage, skill, expertise, friendship and generous spirit will be missed by everyone who knew him.

We hope to return to Bonneville in 2021 (or 2022, depending…) for a record attempt in the AMA 500cc P/PC division. We have a 1973 Honda CB500K2 in preparation for that event. If that happens, the number plates on the bike will bear a dedication of our attempts to Bill's memory.

---- Gary & Jacci Ilminen

A great mentor, wonderful human being and an ABSOLUTE LEGEND in the motorcycle world. Wish I would have talked to him one more time but he would have had something wise to say about it! Love you, Bill. RIP
---- Matt Carr
I came to know Bill, second hand through my son. From moment one, I was impressed with his intellect and wit. As the years went by, I added attention to detail to a long list of his positive qualities. He will be missed by many. Thoughts and prayers to his family
---- Tim Adler
Always enjoyed seeing and talking to Bill at the shop. He was very trusted and he provided top notch service. The local MC community was and is fortunate to have had Bill. The Whisenant family is in our thoughts.
RIP Bill.
---- Andrew Cortright
Many great memories at the Drag Strips and Road America,. You'll will be missed my friend...
---- Raymond A. Cruz
Bill sponsored Ed's racing. He did all the machine work on Ed's motorcycles. Bill's use of his dyno was greatly appreciated and well used.
---- Barbara Key
Bill was a great guy, and taught me a lot. He will be missed......
---- Michael Weber
I am heartbroken. He was akin to my family doctor. I only needed him when the bikes needed some loving care. Much love to all of you at MP who served with him over the years, and especially to his family who must be missing him terribly.
---- Lauranne Bailey
You will be missed Bill
ride in peace
---- Justin Sundet
Honored to call this man my friend. For almost 30 years.
And absolute gem. A cranky absolute gem. God speed Wizznuts
---- Jaspa Karat
Just heard the news.... started taking my bike to MP in 1985. Went back with an issue on another bike 20 years later. Asked Bill if he remembered me... he paused and without hardly any thought said I had a 1983 such and such. He was a genius and will be missed by many.
---- Rick Peters
I'm so sorry to hear this news. My thoughts are with Bill's family and the team at the shop. God bless you during this difficult time and beyond
---- Krystal Wambold
Thank you for reaching out, truly sorry for your loss ---- Marty Yenawine
Our condolences ---- Janice Harrison Carley
Awesome guy! ---- Stormin' Norman Roelke
Really sorry to hear of Bill's passing regards The Pattos ---- Wayne Patterson

He will be missed ---- Warren Knaub
RIP... ---- Robert Corbit
RIP ---- Bill Johnson
Much respect! ---- Kendall Stern
Amazing man we truly miss him so! Amen ---- Keri Adkins
Great Guy and a great competitor. He will be missed by many MC enthusiasts in Mad Town area ---- Donald Fulkerson