Read about the bikes, and work in progress for the next trip to the salt flats
(because there will always be a next trip!)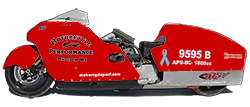 See the fundraising progress for this year!

Progress: Still raising funds for the upcoming trip!
Because of the rain flooding the salt this year, we are rolling over all of last year's fundraising to next year's trip - keep looking ahead! At least in 2013 AND 2014 they determined the event was rained out before we were already there, no gas money wasted! (Remember 2011?)
Keep an eye on our blog for updates in bike modifications and testing.
See you in October 2015!


It's truly unlike any other place on earth. Once you're there, it gets into your bones and you have to return.
THE BIKES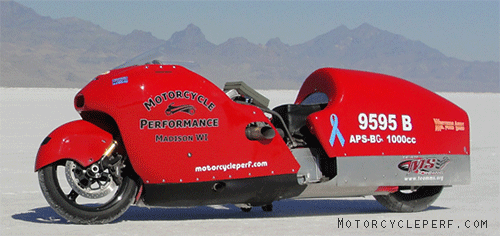 Ducati 999 - 9595B
The first bike made for the salt - it has undergone several transformations as we test it on the salt.
We were the first Ducati to go over 200 mph at Bonneville, and the first to go over 210.
This year it went 212.959 on the second pass, but the bodywork needs modification for next year (it's not quite tall enough to direct air up and over the rider, so there are 200 mph winds pushing the rider's head back... not so comfortable!) Also known as "the red bike" and "MegaDuc(k)"
Wheelbase: 98" (street bikes are normally 54")
Motor: 2005 Ducati 999
Rear Wheel Horsepower: 305 (stock is 119)
Weight: 645 lbs (stock is 425)
Top Speed (to date): 212.959 mph
Speed Progress for the Ducati 999
2007
159.567 mph
2009
195.655 mph
2010
205.089 mph
2011
RAIN
2012
212.959 mph
2013
RAIN
2014
???
First Ducati over 200 mph at Bonneville
First Ducati over 210 mph at Bonneville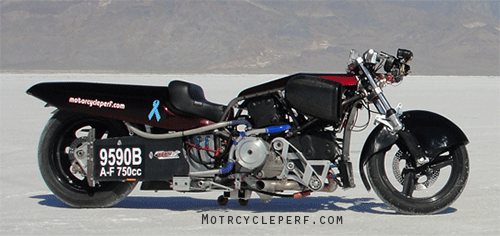 Ducati 749 - 3103/9590B
(3103 is the dragracing number, 9590B is the Bonneville number)
This bike runs on both the salt and the dragstrip - it has run at Byron and Valdosta, and took its first trip to Bonneville this year. (well, the first trip where it actually got to run... see the sad soggy story of Bonneville 2011).
It was originally built as a mule to test the 999 engine in the shorter context of the dragstrip and has developed a personality all its own, which is usually how these things tend to go. The bodywork colors pay hommage both to an old drag racing bike of ours that was a deep burgundy, and the gorgeous orange stripe of the 911 car (Crew Chief: John Beck, driven by Dave Davidson). Also known as "the fueler" and "MiniDuc(k)"
This bike is the first naturally aspirated Ducati in the 8's in America!
Wheelbase: 64" (street bikes are normally 54")
Motor: 2005 Ducati 749
Rear Wheel Horsepower: 200
Weight: 380 lbs
Top Speed (to date): 172.218 mph
didn't offically back it up for the Bonneville record book... yet!
Best e.t. 8.73 @152.81 mph (Valdosta GA 2012)
E.T. Progress for the Ducati 749
Oct 2011 Byron
10.97 @ 132.84 mph
9.76 @ 137.68 mph
Nov 2011 Valdosta
9.21 @ 140.28 mph
Aug 2012 Byron
8.92 @ 147.34 mph
Oct 2012 Bonneville
172.218 mph
Nov 2012 Valdosta
8.73 @ 152.81 mph
2013 Bonneville
RAIN
2014 Byron
8.08 @ 170.92 mph
2014 Bonneville
???
Goals for 2014
Red Bike 9595B
Maroon Bike 3103/9590B
New front bodywork to direct wind over the rider
Rework the fuel system to lengthen the fuse
Chassis strengthening, more ballast
Try using a larger 999 motor at the drag strip
There's a blower and a bigger tire lurking in the back...
221 mph goal, which would secure the title
"World's Fastest Ducati" here in Madison
167.824 mph record - achieve this at Bonneville and back it up for an official place in the record book