We have walls full of accessories for your bike, trailer and yourself. If the item you're looking for isn't in stock, we can order it from one of our suppliers
SALE!
Summer cleanout!
20% OFF all apparel on display
For You
A great selection of jackets, gloves, helmets and rider manuals. We recommend coming in to the store to try out sizes, to make sure to find the best fit (except for rider manuals - one size fits all).

For Your Ride
Make your bike the ride you've always wanted - choose your ideal saddlebags, mirrors, lights, handlebars, footpegs, etc.
If it's already perfect, take good care of it with our wide selection of oil, maintenance products, and polish.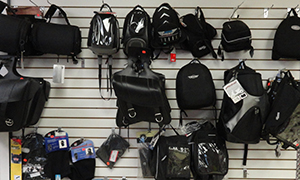 For the Trailer
Attachment rigs, tie-downs, and stands to make sure your bike and your gear stay where they're supposed to.