We are off of University Avenue, behind Midas Muffler. The driveway is a little tight due to the giant rocks placed there courtesy of our neighbor out back.
Store Hours
Monday-Friday: 9-6

SPECIAL HOURS
Closed Saturdays Oct 15-Mar 15
Call before 6pm Thurs for Saturday dropoff by 10:30am

Closed Nov 24, 25 for Thanksgiving holiday

This shop - though it looks small from the front - is equipped to handle almost any job you might imagine, from routine maintenance to paint repair and dyno testing.
Tire changes - Oil changes - Repairs - Welding - Painting - Dyno Testing
Tires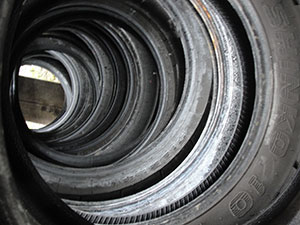 We have a large selection of tires including:
Metzeler, Dunlop, Michelin, Bridgestone, Pirelli, Continental, Kenda, and Shinko
The Machine Shop
Everything that you would need done on a motorcycle, we can do in-house. The machine shop upstairs is packed with everything one might need to machine custom parts or modify existing ones. We can build bikes from scratch, rebuild frames, machine engine parts from raw metal, create custom bodywork or recreate/modify existing parts...
Anything you could dream up, we can help make it happen.
| | | |
| --- | --- | --- |
| | | |
| The chassis of the Bonneville bike and the nitro bike were made here at the shop from lengths of straight tubing, bent and welded to accommodate the engine and all associated parts. | | One example of the machining work we do at the shop: cutting billet cylinder heads out of raw aluminum using the lathe and mill. |
See our Projects Page for recent customizations and the Bonneville Project blog for a look at shop project bikes that have been in the works (for the salt and for the asphalt).
There is a full upright mill, a lathe, bandsaw, metal sheer, pipe bender, hydraulic press, plus a wide array of handheld dremel tools, cutoff wheels and sanders. The one thing that we don't do ourselves is grind/balance cranks.
The Dyno Room
Our shop has a fully equipped dyno room with digital readout, providing a space to test a bike's limits and moniter its performance.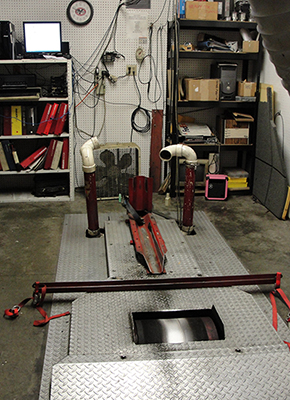 The Paint Shop
From a simple spot repair to a complete paint job, our body shop can handle plastic repair, fiberglass and carbon fiber.
Major damage is stabilized with a composite backing for strength.
Need a duplicate part? We can make a mold of an existing part and re-cast it in fiberglass or carbon fiber,
using either epoxy resin or polyester resin. We can do custom fabrication as well: the bodywork of the Bonneville bike was all made and painted in-house.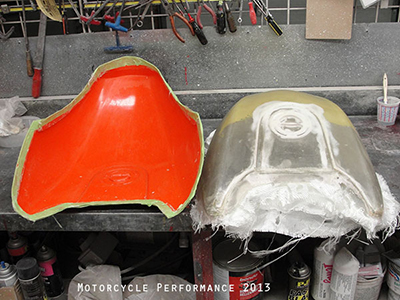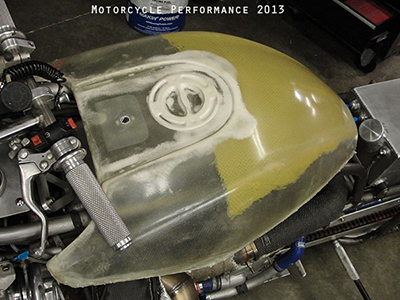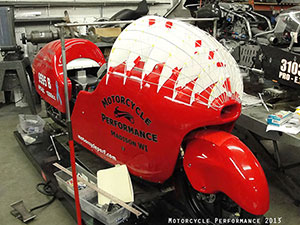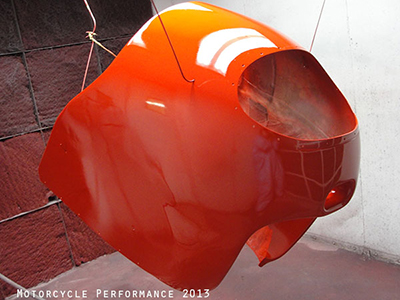 Winter Storage
We also offer storage for the winter months in the warehouse of the shop. All bikes will be prepped and properly stored, then returned to you in the spring, ready to ride. Please give advance notice when you are coming for your bike, so we can get it out ahead of time.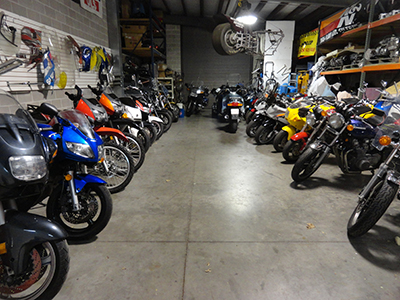 ...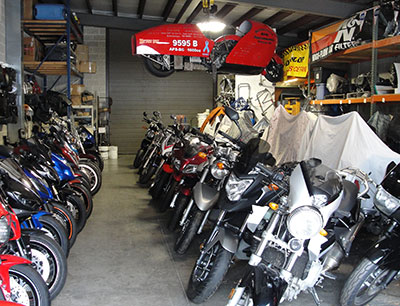 Warehouse in summer vs. warehouse with three rows of winter storage bikes on the right.
Hanging from the ceiling is the Bonneville bike, waiting for the next trip to the salt flats.