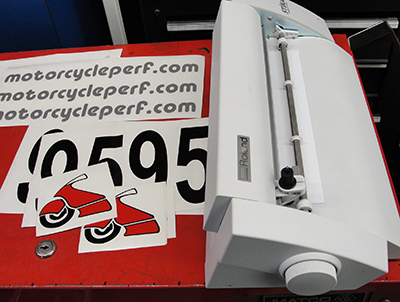 We have the ability to design and print decals for your bike, helmet, car window, pet taxi, your buddy's back, or anything you want to stick something to! Multiple layered color options are available (over 3-4 colors starts to get a tad thick - we can discuss other options if you have a really colorful design). We can work from any stage in the design process, from a picture or drawing of what you want printed, to a vector file that you already have designed (Adobe Illustrator is a good format).
Keep in mind that it is always easier to work from something clear and legible, as opposed to a vague "Eeeaugh...well, I think I maybe want a thing that looks like, um, you know..."
Our Roland vinyl cutter may seem small (a 9.5" cutting width), but can tackle the largest jobs. All of the lettering on the shop trailer was printed with this little guy!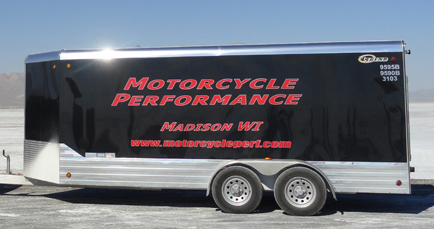 We stock High Gloss Oracal 651 Vinyl. It has strong adhesion and is guaranteed for 6 years outdoors.
If you would like a more temporary low-stick vinyl for window or wall decoration, this will need to be custom ordered.
Our vinyl colors in stock: Black, White, Silver, Gold, Red, Orange, Yellow, Emerald Green, Pale Blue, Dark Blue