Not everything comes exactly how you want it - sometimes you have to make a few changes so that your motorcycle is a perfect fit.
The film "American Cafe Racer" is a testament to both the history of the Slimey Crud Motorcycle Gang and to the independent spirit of riders who customize their own bikes, whether stripping them down to economic cafe racers or fixing up a really nice old bike, or even just adding a personal touch to their ride. It is really encouraging to see so many people willing to step up and get dirty with their own projects, and we are glad to support everything from modest to highly ambitious endeavors.
Most suppliers require a larger bulk purchase of raw materials like tubing or aluminum sheet, but we are perfectly happy to supply small amounts, enough to get the job done and not be stuck with another 7 feet of steel tubing. No matter what kind of customization you want to do, we can provide any materials you are looking for, from adding extra lights, new handlebars, wind blocks, custom brackets, or any number of bedazzlements.
Tires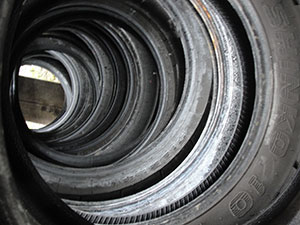 We have a large selection of tires including:
Metzeler, Dunlop, Michelin, Bridgestone, Pirelli, Continental, Kenda, and Shinko
We can also answer questions - but if you are a relatively new builder, remind the fellas at the shop of that fact when you're asking for advice. These guys have been working on bikes for years, and what may seem obvious to them may not be as apparent to someone else. Ask carefully considered questions and we'll do our best to make sure you're on track. Heck, we can even fix it up afterwards if you've taken a hammer to the crusty old thing.